Packers Looking Strong As They Head Toward Postseason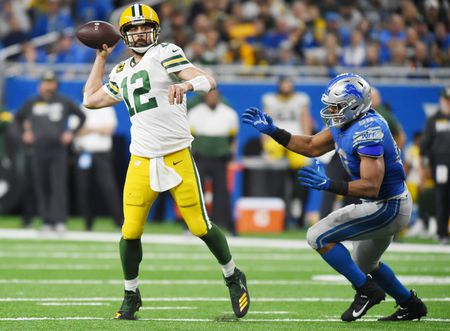 The Packers are heading into the last few weeks of the season, and after a victory on Sunday against the Lions they have a record of 10-3 and have clinched a playoff spot as well as first place in the division.
 Star quarterback Aaron Rodgers has had a great year, throwing 39  touchdown passes with just 4 interceptions this season. "Aaron Rodgers is playing at an MVP level and he has gotten very motivated because of the fact that the Packers drafted a quarterback in the first round," freshman Cody Sanchez said.
In addition to  Rodgers, receiver Davante Adams is also having a great year with 14 touchdowns, and 1,144 yards so far and many many fans  feel that Adams is a top level receiver. "Davante Adams' route running is very good. Adams explosiveness off the line is very good. Very helpful for the Packers,"  freshman A.j Randolph said. 
Besides Adams, the receiving core has been up and down, with Alan Lazzard missing a number of games due to injury and Marques Valdes Scantling being unreliable, so fans were happy when the Packers picked up veteran wide receiver Tavon Austin. "I think it was a good pickup because the Packers need more depth at Wide Receiver position. Austin can also do things like return the ball because we released our usual kick returner Darrius Shepherd,"  Sanchez said.
The Packers have also had some very good games, with big wins over the Saint Falcons, and one of their most recent wins– the Philadelphia Eagles 30-16. During this game Rodgers threw his 400th touchdown in his career and Adams had 2 touchdowns. 
But despite these victories the team has also had some very bad games, like against the Tampa Bay Buccaneers when Rodgers threw 2 interceptions and only had 190 yards while Buccaneers quarterback Tom Brady threw 166 yards and two touchdowns. "They were not prepared for the Bucs defense and Davante struggled because it was his first game back from an injury. Our run defense is just bad,"  Sanchez said.
The Packers game against the Colts game did not go too well either when they lost 34-31.The game went into overtime and the Packers got the ball first, but they turned it over like they had been doing all game and the Colts took the ball back and scored for the winning touchdown. "The game was very close but we blew a big lead because the Colts wide receivers destroyed our secondary and without Marquezes fumble we probably would've won," Sanchez said.
With the Saints losing their game Sunday this puts the Packers and Saints tied for the number one seed in the NFC with three games left in the regular season.