Milk Can Diner Replaces Greendale Village Favorite
This past summer, Ferch's restaurant, located in the heart of Greendale's village, permanently closed its doors as the owner decided to retire. A new restaurant, however, is replacing it called Milk Can Diner which is supposed to open by April 2021. 
The Milk Can Diner offers a variety of cheeseburgers, chicken sandwiches, custard, and vegetarian/vegan (the impossible patty) options – a similar menu to the beloved Ferch's. Unlike Ferch's, they also will be offering specialty coffees, fresh bakery items, and a full bar.
Many who have lived in Greendale a large part of their lives will miss Ferch's and keep the memories made there – whether it was studying for school and having a place to go on hot summers. So, how do Greendale residents feel about this closure and having a new restaurant in town?
Senior Alanna Swenski is considering applying to work at the Milk Can Diner over the summer. "Much like Greendale, Ferch's was part of our history. It's where many students would go to eat on Fridays after school, or where lots of families would go to eat for custard," she said.
Senior Eric Gajewski, who enjoys being a part of the small Greendale community, will miss this treasured restaurant. "I liked going to Ferch's because it was a fun place to hangout with friends," he said.
Many students at GHS will miss Ferch's, as it is a restaurant they've been going to their whole lives. Junior Sabrina Norton was an avid Ferch's goer to do homework and  grab a bite to eat. "I was really sad and confused as to why such a nice place to memories shut down," she said. "I liked going to Ferch's because it was a place that everyone I went to school with knew so it would be easy to meet up with friends at that location."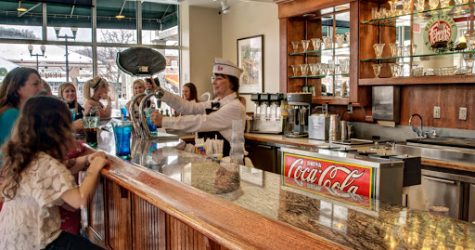 Others didn't have as close of a connection to Ferch's despite enjoying the village community and its small shops. "I like how it's a conglomeration of small businesses all thriving in their own way," said Greendale High School senior Bobby Jachowicz. However, he won't miss Ferch's much. "Although it may be controversial, I don't feel that bad about it. I understand that other people went there as a kid, but I was never a big fan," he said.
Many hope that the diner keeps the same unique 50's style as Ferch's because it drew in visitors to this small town. "I hope that they [Milk Can Diner] keep the same old 1950s-ish diner feel with similar menu options to keep it a family friendly place to visit," Swenski said. "It will add something different/unique to the community." 
Others hold the same view. "I like how Ferch's reminded me of the movie Grease," senior Sabrina Benali said.
"I hope it stays similar in the way that a lot of people use it as a hangout spot," Gajeski said. 
Jachowski agrees. "I liked the classic style, which was one of the things I liked about Ferch's – it was always fun to get a blast from the past," he said.
Though many are sad to see Ferch's go, there is some excitement surrounding this new establishment coming to the small town, Greendale. Only the future can tell how well this restaurant will be adapted into the community to serve both residents and visitors alike.