Joe Biden signs numerous executive orders
On January 20, 2021, Joe Biden was inaugurated as President of the United States. Within the first two weeks of his presidency, he has signed 28 executive orders, the highest amount since Franklin Roosevelt in the 1930's. Some of these orders include changes to country policy on immigration, the Keystone pipeline, abortion funding, and transgender individuals in sports.
Less than three weeks before the election, Biden said that signing executive orders was similar to being a dictator. "I have this strange notion, we are a democracy…if you can't get the votes…you can't [legislate] by executive order unless you're a dictator. We're a democracy. We need consensus." His opponents are critical of this since they feel like the media attacked Trump four years ago for signing executive orders and he only signed four.
Senior Collin Jendrzejek, who identifies as a libertarian, is fed up with the hypocrisy of American politics in both parties. "It is absolutely dangerous. In fact, executive orders aren't even in the constitution. They were originally used as a tool to enforce laws written by the legislature, but since our congress can't get anything done due to partisan politics, executive orders are being used to just write laws," he said. 
However, senior Evan Smazal likes some of the executive orders that have been passed. There "are some as simple as rejoining the Paris Climate agreement [that's] important to be a part of," he said.
In the first week, with a stroke of a pen, Biden slashed 11,000 keystone pipeline workers' jobs and halted 830,000 barrels of oil to the U.S., which has angered many throughout the country. "For union members affected by this decision, there are no renewable energy jobs that come even close to replacing the wages and benefits the Keystone XL project would have provided," the United Association of Union Plumbers and Pipefitters said in The Daily Wire.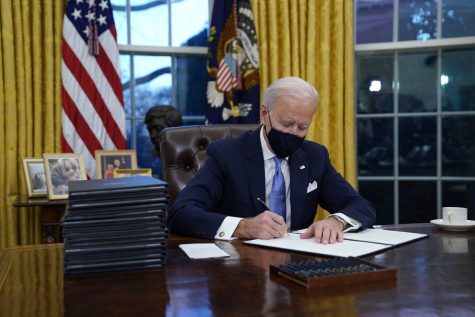 In another controversial decision, Biden signed an executive order that will, "Preventand Combat Discrimination on the Basis of Gender Identity or Sexual Orientation." This would allow transgender high school students to compete with the gender they identify with. Several senate Republicans attempted to introduce a bill last year restricting funding from schools who allowed transgender girls to compete in women's sports, saying it has, "denied female student-athletes athletic benefits and opportunities, including advancing to the finals in events, higher level competitions, awards, medals, recognition, and the possibility of greater visibility to colleges and other benefits."
Biden also plans to issue a Presidential memorandum to rescind the Mexico City Policy that prevented the federal government from funding institutions and organizations that peform abortions. 
"I believe every human being is created with God-given dignity and potential. No Court, no legislature, no law, can take that away," said Senator Steve Daines of Montana in response to Joe Biden's memorandum. "Nevertheless, today, babies with Down syndrome are the most endangered on Earth… That's why I am joining my colleague from Oklahoma, Senator Inhofe, in introducing the 'Protecting Individuals with Down Syndrome Act,' which will prohibit abortions that are sought because of a diagnosis that an unborn child has or may have Down syndrome."
Only time will tell what will come of Biden's presidency and his executive orders. Will there be big changes that affect the country  positively or negatively? It seems some of these changes are fast approaching and time will tell exactly how they will impact the country. 
Some are targeted the most vulnerable, others have cut jobs, made big changes to women's sports and scholarship opportunities, and resulting in growing controversy that has long existed in the division between Americans that seemingly continues to grow.