Devastating power outages in Texas leave millions without electricity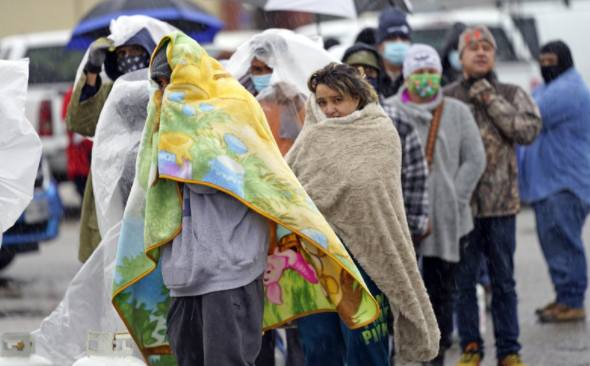 On Feb. 10, almost 2 million Texans were left without electricity due to harsh winter storms that frozen gas lines. This was a devastating blow to the state and its people. The frigid cold left many citizens without heat, water, and food. 
Many families were left without any way to heat their homes in the frigid temperatures, causing them to turn to unsafe and dangerous methods, such as propane tanks or gas stoves. In a Wall Street Journal article written by Elizabeth Findell, it describes the lengths families were forced to go to conserve some heat, "The children played in front of four lighted gas burners in East Austin on Tuesday night as their family tried to warm up during days of subfreezing temperatures, no power, and no relief on the horizon."
Citizens had become desperate, trying to find ways to keep their families warm. In the article it also discusses Charlene Brewster, the mother of two young boys and a 4-month-old daughter, and how she had no other choice but to try and heat her apartment with a gas stove, "'I know carbon monoxide poisoning, but what else can we do?' said Ms. Brewster, a city of Austin crossing guard. 'Is anyone going to help us? I have a baby in here'."
Because of these unsafe heating measures, many people are getting sick. In an NPR article written by Rachel Treisman, it talks about how recent Carbon Monoxide Poisoning cases are increasing, "On Tuesday, The Cy-Fair Fire Department in Harris County reported transporting 14 people, including seven children, to hospitals for carbon monoxide poisoning after they used grills to heat their homes. It later transported another nine, saying two families had reportedly used charcoal grills indoors."
Water lines have frozen and burst also, causing homes to flood and leaving people with little or no safe access to water. According to a Texas Tribune article written by Reese Oxner and Juan Pablo Garnham, many citizens were under a boil water notice-an advisory to boil water before drinking, as the water could be contaminated with disease, such as pathogens. In the same Texas Tribune article, it talks about how more than 1,100 boiling water notices have been sent out, "Approximately 600 communities with populations less than 500 are under boil water notices. Around 360 more with populations between 501 and 3,300 are also telling their residents to boil water before consumption."
Later in the article they talk about an apartment resident whose management sent out an email, telling the tenants to fill their bathtubs with water, as they were going to shut off the water within an hour. She didn't see the email until almost four hours later, so with no access to water, electricity, or heat, her and her roommate had to stay at a hotel.
There's another incident talked about in a New York Times article written by Jack Healy, Richard Fausset, and James Dobbins. Denise Gonzalez, who had joined a crowd at a makeshift relief center where volunteers handed out food from the luggage compartment of a charter bus, didn't have any access to water. Her electricity had finally been turned back on but the pipes were too frozen to do anything, "She could not bathe, shower or use the toilet. She said she had been calling plumbers all day, but one of the few who answered told her it would be $3,000 to come out to assess the damage. 'If I had $3,000,' Ms. Gonzalez said, 'I wouldn't be getting food from people on the bus'."
This is not an ideal situation for anyone, but even more so those with disabilities and little children. In another Texas Tribune article written by Shannon Najmabadi and Marissa Martinez, it discusses how multiple people with disabilities and health risks feel and are handling the situation, "In East Texas, Lisa Blevins worried the freezing temperatures could hurt her 41-year-old daughter, who has an auto-immune disease that makes her susceptible to becoming severely ill. Blevins, 58, said she couldn't take her daughter anywhere if she got ill; they don't want to risk her being infected with the coronavirus." 
They also talk about a situation involving Ashlynn Hoffner and her partner. Around 4:30am she had to call 911 because her partner's oxygen machines was running low on battery. Najmabadi and Martinez included a text message in the article about how she feels about the situation, " 'I am angry about the whole thing,' The blackouts happened 'in the middle of a snowstorm' without 'any thought to how it would affect disabled people (nothing new there). We're also going to have to throw out food because our fridge hasn't been on for 2 days. I am lucky to have my partner and my friends. Not everyone is that lucky'."
These unsafe conditions are causing many problems and, as Hoffner said, some citizens have not been as lucky as most. Many Texans have died because of frigid temperatures, yet nobody will know the real death toll for weeks. In another Texas Tribune article written by Shawn Mulcahy, it discusses three deaths most likely due to hypothermia. Among those include an 11-year-old boy, a San Antonio man, and a 60-year-old man.
In a The Philadelphia Inquirer article, written by Antonia Noori Farzan, they interviewed a couple who has an 11-year-old daughter, "Both Castillo and Sánchez expressed shock and anger at the fact that so many vulnerable people in the city had been left to fend for themselves without heat, light, hot water, warm meals — or even access to the news."
Fortunately, some people are offering what little they have up. In a Washington Post article, written by Hannah Knowles, it talks about a local grocery store in Texas, where the power went out. Although many people had no cash or any form of payment, the shoppers still were allowed to leave with whatever they needed.
In the article, they interviewed Tim Hennessy, who described the experience, "When Hennessy got to the cashier, he said, she just waved him on, thanked him and told him to drive home safely. 'And it hit us — like, wow, they're just letting us walk out the door,' the 60-year-old man recounted. Ahead of him, shoppers were pushing carts piled high with diapers, milk, jumbo boxes of crackers — all free. He began to tear up."
In a CNN article written by Christina Zdanowicz, she talks about a couple who took in a delivery driver for five days, " 'I'm just extremely fortunate that this is where my car crashed,' Timmons told CNN. 'It was in their flower bed. It wasn't in a ditch. It wasn't on the side of the road … I was stuck someplace safe and warm'."
The article goes on to describe how kind her hosts have been. When she offered to leave, the couple had insisted she stay, worried for her safety.
According to a news article from KENS5, last updated Feb. 18, power has been restored to most of Texas, although problems are still arising. Many Texans are still impacted by boil water notices, as well as dealing with problems with natural gas.