The Cross Country Teams seasons start to wind down at full speed
Despite losing a lot of strong members of the team due to graduation last year, this year's cross country team has its biggest team in many years with 48 members.
The coaches of the team are Corey Binnebose and Brian DeSalvo and they are really pleased with how many runners they have on the team this year. "My goal has been to get 50 runners combined on our CC team.  We are at 48 this year, last year we had 26 at the end, so having 48 this year is awesome.  With numbers, the team's success will come," Binnebose said.
Especially this year, the GHS Cross Country team has seen a big turnout in freshmen in general. "I think this year in particular one of the strengths is how close the team is and has gotten," senior Angie Oliveras said. "The current freshmen are exactly what we needed and what I was looking for going into my senior season because I wanted to be a part of leading a team that was motivated and that was all friends." 
Cross country is a team sport, and all runners help the overall team score. However, another goal is to improve as an individual runner and get a personal record (P.R.). "I think some of our strengths as a team is that we're always improving. I think almost every meet someone has pr'd which is great to make our team stronger," senior Ben Barutzke said.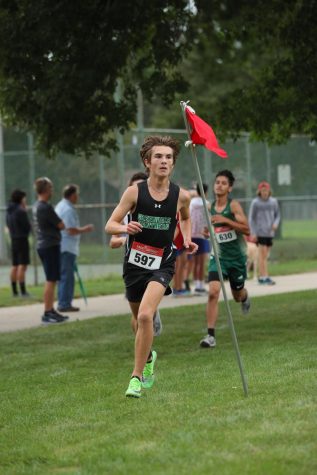 The courses themselves vary in terrain, some being flat county parks and others have thorns, rocks, hills, and even traffic. One course, in particular, has been hated among most cross country runners, and that is the grueling Minooka Park. "I remember as a freshman thinking the hill was my worst nightmare because it was at the end of the race with no adrenaline and feeling like you are gonna pee and pass out at the same time, it flat out just sucks," Oliveras said.
Recently, the team competed against 14 schools at the Woodland Conference Cross Country meet. The girl's team finished in 5th. Earning all-conference honors were Oliveras with 14th overall, freshman Lauren Alenius 19th overall, and senior Ella Wilson 22nd overall.
4 freshmen ran for varsity, conference day. The future's looking good for the girl's cross country team. Alenius has enjoyed running varsity this year. "I really like running varsity because it is more of a challenge," Alenius said. "Even when you think you did good and you feel like you did really well your place doesn't reflect that. It pushes me to do better."
The boy's team finished in 4th.  Earning all-conference honors was Barutzke with 6th overall and Connor Polenske with 14th overall.