9 dead, hundreds injured at Astroworld Festival
Tragedy struck the Astroworld Festival at the Travis Scott concert where 9 people lost their lives. Many artists like Young Thug, Tame Impala, SZA, Lil Baby, and Travis Scott himself were on the lineup throughout the two days. Although many were excited for the show, the festival was cut short due to the injuries that occurred during Scott's performance on Friday, November 5th. 
The venue had sold all of their 50,000 tickets for the concert, but among the chaos, the number attending was higher than intended. Around 9:30 pm, things got out of control when concertgoers started surging toward the stage with excitement as the countdown clock for Travis Scott timed out. With a tightly packed crowd, people began suffocating and were getting trampled on. The 9 people who lost their lives ranged from 9-27 years old.
The youngest of the deceased was nine-year old Ezra Blount. It was stated that during the festival, Blount fell off his father's shoulders as the dad was being crushed and was trampled on while the crowd was surging toward the stage. He suffered severe injuries and was put into a medically-induced coma, but died shortly after. 
"I'd say that both Travis Scott and the security are to blame. Once the concert started to get out of control he didn't stop performing, but on the other hand the security is to blame because of the non-ticket holders barging in, and there not being enough security guards in general," senior Dev Patel said. 
After that night and after the festival shut down, news came out that there was also an unknown substance being injected into people in the crowd. Similar to spiking a drink, needle spiking is now something that people need to be cautious of.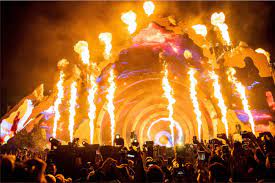 During the concert, a security guard was poked with a needle and knocked unconscious while trying to restrain another. Senior Alyssa Dorava is a fan of going to concerts and music festivals. "After hearing about what happened, it makes me feel like I need to be more cautious at concerts, but it won't keep me from going to future ones, and I will still continue listening to his music, " she said. 
Despite all that happened, people's opinions on Travis Scott have seemed to remain the same. Senior Will Vaile's opinion is one of those. "My opinion on his music really hasn't changed, I think he's still a really good artist." 
Others see the incident as a fault of not only the venue security, but Scott's as well and seem to have a different take on the artist's character overall.  "I still like his music but I feel that he should've done a better job handling the incident as a whole," Patel said. 
Following the festival, Scott had reached out to his following on instagram by posting a video apology on his story. He offered to pay for the funeral costs of the nine lives that were lost and shared his condolences to all of the injured, dead, and their family members. 
As of now it is unclear where Travis Scott's reputation stands, with the lawsuits and backlash he and his team are facing.