Girls Basketball off to a tough start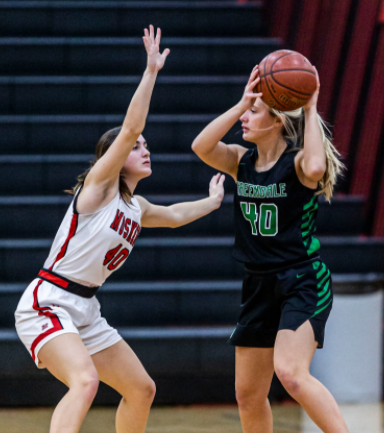 The Greendale girls basketball is off to start of 1-8, with a record of 0-4 in conference, which is not what they hoped for, but they plan to bounce back and win some games in the new year. 
So far their losses have come against powerful teams such as Franklin, Pewaukee, Eisenhower, Muskego, and Martin Luther. These are all solid teams, in fact Martin Luther won conference in the girls division the previous year. 
The Panthers' first win was against Milwaukee Reagan, 50-28. "Our team goal is to win more games than last year and play better against harder teams. Individually I want to work on improving my ball handing this year," junior Ashley Lokker said.
The Panthers are still a young developing team, with only three seniors in their starting lineup, Jenna Ridder and Abby Hughes. "We need everyone to work together, once we get good enough team chemistry and get more aggressive we will play fine," Ridder said. 
The team looks to improve on every aspect of their game as they look to push their record back to .500 on the season. The Panthers have not been putting up as many points as they have wanted to as they continue struggling with getting rebounds and putting up enough shots. 
They also want to get better at defense, as they are allowing more points than they want to give up each game. "We need to improve our defense, we haven't been getting rebounds and boxing out," Ridder said. 
Although their record isn't as good as they want it to be, the girls have been struggling to stay healthy as some  players on the team have been out due to covid, which greatly impacts the team because they don't have enough players down in the stretch of  game. "We need to stop getting covid so we can have our full team to be able to put our best foot forward," Lokker said.
While the odds are against them the Panthers look to bounce back this season and make a run for the playoffs for the first time in several years.