Cheer team stunts into Nationals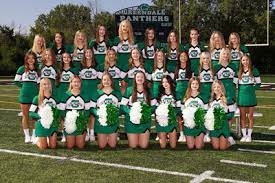 The Greendale 2021-2022 cheerleading season has come to an end, and the squad finished second in the state competition held in Oshkosh and finished ninth in the National competition held in Orlando, Florida.
Having the opportunity to leave school and go to Disney to perform in front of people has definitely got to be one of the most thrilling experiences that the girls could have, especially as a high school student. "The highlight of the trip was definitely all the practices we had, working with the other girls on the team, and the adrenaline of the inevitable performance we would have," sophomore cheerleader Ayanna Lapointe said. "Our first practice was a morning practice, really early. We had to be there at 7 am, so 6 am Wisconsin time. The energy was really good."
Once it was their time to perform, the girl's routine was executed and their trip was accomplished. "My favorite memory was hitting our routine and how it felt to know that our hard work paid off," junior Kate Grunske said. 
Understandably essentially ending the season with a good finish on a routine has to feel amazing. Especially with family and friends watching from the biggest stage."My highlight of the trip was hitting our routine and crying with my team afterward. I think that's the first time I've ever had true tears of joy," junior Julia Gnadt said.
Being a part of a team for so long gives members the opportunity to meet people and create bonds that will last for a lifetime. As a captain, you have a huge responsibility to make sure your team is on point at all times. If anything were to happen, they look to you to see what to do. 
As a captain, you are the glue that holds that team together. "I feel like this year I really focused on bonding with the team and keeping that bond as a teammate while also being in a leadership role," senior captain Caitlin Schuk said. 
The cheer squad has a brief break from performing to let their bodies recover and refuel before another long season of competing, competing, and more competing."I tried to make sure everyone stayed healthy and eligible so we could have a great season," Schuk said.
When it comes to the time to go on stage the pressure is on. You have hundreds of people looking at you hoping you perform well. Failure is not an option and there is no room for error. 
The girls were very happy with their overall performance at state and Nationals. "I'm very happy with my performance. Over this season, I have learned to control my nerves and execute my skills with consistency and confidence and I'm very proud of that," junior cheerleader Julia Gnadt said.