Hurricane Ian Devastates Florida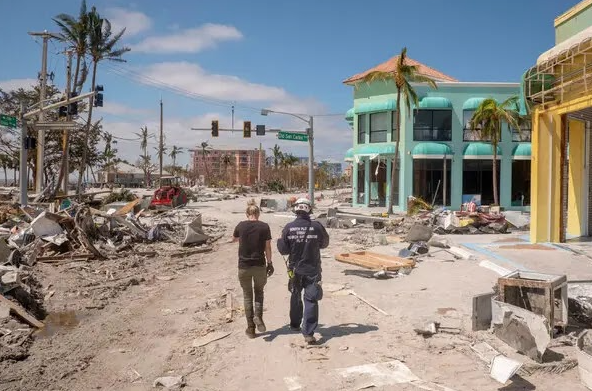 Hurricane Ian ripped through Florida's southwest coast, devastating Fort Myers and surrounding communities. Greendale students and families have felt the effects of the hurricane even thousands of miles away.
According to Reuters, at least 100 people have been killed, and 40,600 displaced by the category 4 Atlantic hurricane, which made landfall Sep. 28. Beyond the coasts, central Florida is experiencing major flooding and irreparable property damage. 
Senior John Skrobis is worried about his grandparents' home in Fort Myers. Skrobis' family was planning to move back to Florida for the winter when hurricane Ian made landfall. "As of now, it sounds like [a] storm surge hit their part of town hard, so it may be a while," Skrobis said. "Unfortunately, Hurricane Ian took a very unexpected path, so my grandparents weren't able to protect the house very much. Since they are stuck in Wisconsin, they had to rely on their neighbors and housekeepers to set up everything properly." 
This is a predicament many Floridians are in. Many were not expecting the hurricane to hit the way it did, thus many were not prepared. In his first address after damage assessments, Florida governor Ron DeSantis said, "I think we've never seen a flood event like this, we've never seen storm surge of this magnitude, and it hit an area where there's a lot of people in a lot of those low lying areas."
Hurricane Ian also upended flights, events, and travel plans. Junior Jack Bauer and his GRB National Team were looking forward to their baseball tournament in Fort Myers, which was originally scheduled for the weekend of Sep. 29. "This was a big scouting weekend for colleges and we have a lot of uncommitted guys so this was a big week to help you get recruited," Bauer said. "It was big because big schools [from] down South [were there]."
Relief efforts are underway, with rescue teams being dispatched all throughout Florida, aiding thousands of Florida residents daily. Although Hurricane Ian caused mass destruction, Florida is expected to bounce back, showing its resiliency after every hurricane season.