Students have fun going to haunted houses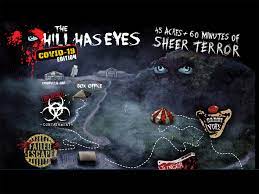 Haunted Houses are one of the main things to do during the month of October, and some of the main haunted houses students go to are Hill Has Eyes, Abandoned haunted house, and Fright Fest. Each one gives you different experiences, some being better than others. Prices also vary depending on where you go, starting at $30 all the way to $70. 
Some students visited a haunted house over the weekend. One student stated when asked if the haunted house was scary, "It was really fun but I honestly think it was too scary for me," senior Petra Reskovic said. 
She was disappointed that it was not advertised well and she stated, "I think the website really showed what I was getting into but the important information like if we need an adult with us or to sign a waiver was not on there. So it lacked some information," Reskovic said. 
Senior Olivia Bauer went with Reskovic to the Haunted House and described the scariest part. "It was scary when someone touched my shoulder and I thought it was my friend and I turned around and it was NOT them," she said. "but the best part was laughing so hard at my friends' reactions." 
Of Course many students also went to the Hill Has Eyes in Franklin, but some were disappointed. "It is not what it used to be. Too many young people and people I know work there. Most of the workers don't even try or want to be there. It's also more expensive than it was in past years," junior Jacob Sellhausen said.