Students look forward to spending Thanksgiving with family and friends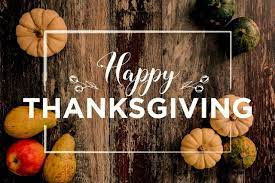 Thanksgiving is one of the most popular holidays celebrated in the U.S.   It is a day where all families get together and celebrate the opportunities in their lives and thank everyone who is there for them.  Families and friends all get together to eat the biggest meals of the year. 
For the past couple of years, the pandemic has changed the way people celebrate Thanksgiving.  Social distancing was a big issue, most families couldn't even get together for the past two years.  "While covid was a thing for the past couple of years,  I only could have celebrated with the people that live in my house, and couldn't see my other families.  Finally this year is going back to normal, no more social distancing and no more pandemic,"  junior Aidan Golumski said.  
Family and friends usually all get together and celebrate how thankful they are in life.  "We have this tradition where before we eat at Thanksgiving.  Everyone around the table says one thing they are thankful for,"  sophomore Landon Lopez said.  
A lot of food is served on Thanksgiving so many families have leftovers for days.  "Every time after Thanksgiving, for the rest of the week, we eat leftovers from Thanksgiving dinner, that's how much food we get for thanksgiving," Golumski said. 
There are a lot of common foods that everyone eats on Thanksgiving.  "My favorite foods at Thanksgiving are turkey, ham, mashed potatoes, and stuffing," Lopez said.  
People also go out to restaurants all together or stay in, have family over and make their own food.  "My family alway gets together to go to Tuckaway every year for Thanksgiving.  They have unlimited food for us. This year we might have a get together at my house because we missed the registration to get our seats,"  freshman Logan Plitt said. 
There are a lot of traditions families have during Thanksgiving.  "One of the traditions we do as a family is we all go around the table and everyone just say one thing they are thankful for,"  junior Riley Guenther said.