Greendale Swimming Coming to an End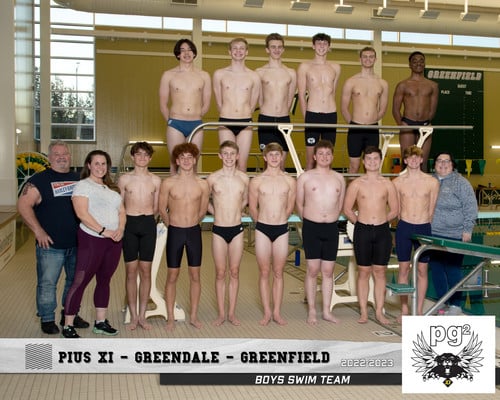 The Greendale swimming season is coming to an end and they have had a successful season, only losing one meet.
The team is part of a three school Co-Op with Greenfield High School and Pius. The team practices at Greenfield High School six days a week  and many meets take place there as well. 
The GHS swimmers enjoy swimming at the Greenfield Natatorium. "I really like the pool there. It runs smooth and also the pool area in general is super nice," junior Liem Funk said.
The team has six athletes from Greendale: senior Wesley Gilbert, juniors Joshua Nazareth and  Funk, sophomore Noah Stanford, and freshmen Raymond Johnson and Sean Libal. 
Nazareth swims the 100 fly and the 100 breaststroke. "Even though we do not have a ton of swimmers from GHS, we still find a way to have a ton of fun and create lots of memories while swimming," Nazareth said.
The team has many goals for the remainder of the season such as getting to state and swimming very well for the rest of the season. Funk swims the 100 fly and has many goals and thoughts about the season. "I think we have a great chance for the state. We swim super well as a team and we really are able to compete against top teams," Funk said. "We will keep focusing on more practice and really get everything down very well to be able to be successful in state."
Recently, the team competed Jan.21 where they placed first at the Bob White Invitational held at Wauwatosa East. "The meet was so much fun and it was really hype. We swam so well as a team and we just really did well," Nazareth said.
Last Saturday, the team was named 2023 Woodland Conference Champions where the team swam great. "The conference meet was so much fun. We all swam very well as a team and I am really looking forward to state qualifying meets next week," Funk said.