Who will lift the Champions League Trophy?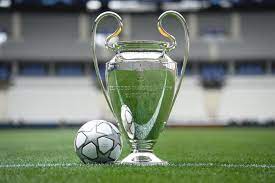 Soccer fans have been excited to watch the Champions League tournament over the past two months.
The UEFA Champions League is an annual club football competition organized by the Union of European Football Associations and contested by top-division European clubs. The teams play in a round robin group stage to qualify for a double-legged knockout format, and a single leg final. 
As of now teams are going into the last round of 16, and many think Real Madrid is going to win because they are doing very well and they have been a favorite of many since Ronaldo has been there. 
"Even though he doesn't play there anymore, his name is a staple for Real Madrid. sophomore Ilija Pupovac said. 
The last teams remaining are AC Milan, Bayern Munich, Chelsea, Benfica, Liverpool, Real Madrid, Eintracht Frankfurt Napoli, RB Leipzig, Manchester City, Inter Milan, and Porto. 
This is the type of tournament that even if you don't watch soccer you still get interested and it will have you on the edge of your seat. "I know they didn't qualify, but Arsenal is a team that I want to see in the next champions league because they have a lot of potential and young players who will get better over the years," freshman Spencer Wendlick said .