Speaking to the Top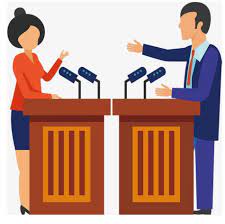 One of the many clubs offered at GHS is forensics that allows students to become more comfortable with public speaking, competing in events like drama, demonstration,and storytelling. Throughout the year, they competed in many competitions and are allowed to compete in the category of their choosing and the purpose is to persuade.
Forensics coach Diamond Arechavala did not participate in forensics as a student but has a heart for drama. "I started coaching Forensics before I really even understood what it was. I felt intrigued, I saw the need for a coach, and I decided to give it a try. Immediately I fell in love with the whole sector of Speech and Debate, even as I continue to learn about it and grow," she said.
The highlight of the forensics season this year was the supportive attitude amongst the members. "My students warm my heart beyond measure and to watch them be successful communicators and artists is really so inspiring. I feel beyond lucky that I get to work with such fantastic students, they are the best part of it all," she said.
Junior Henri Stilling was originally very uninterested and absolutely horrified of public speaking but joined by the persuasion of a friend. "I think that people should join Forensics because, besides helping with speaking skills, it is a way to get awards for doing what you are interested in. There are many categories to Forensics and at least one can be adapted to your skillset and your interests," he said. "Forensics helped me to get over my fear of public speaking and gave me a skill that has been useful in all aspects of my life."
Stilling has competed in Group Interpretation which consists of performing pieces of writing with a group of people, Prose which is similar to group interpretation but performed alone, and Radio Broadcasting. "I did Radio Broadcasting for the first time recently. In radio, you are given 30 minutes to create a 5 minute news broadcast based on the information given to you," he said. "This was my first time doing something extemporaneous, and I chose it because multiple people told me I had a good voice for radio."
Another student who joined to improve their speaking skills is freshman Amber Balota. "I compete in poetry and do poetry because I really enjoy the meanings behind some poems and I love how it expresses feelings in a different way," she said.
Forensics finished off the season competing in many competitions and will hopefully well that state.