Drake and 21 Savage Are Going On Tour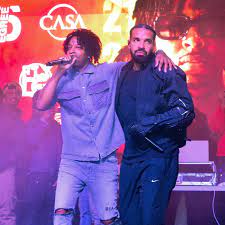 It's official. Drake is going on his North American tour, 'It's All A Blur,' with 21 Savage. No, you're not dreaming. Although multiple award-winning music artists have announced new albums and tours within the past year, Drake's big announcement is not just another surprise. 
To many, it's a once-in-a-lifetime opportunity. Drake's return to tour since 2018 accompanied by his co-album with 21 Savage, marks yet another prime for the dynamic duo. But because of their continued success, getting hands on a reasonably priced concert ticket can be problematic.
When you hear Drake or 21 Savage, you have a clear image in mind. At this point, Drake and 21 Savage are household names. Amassing over 61 million streams monthly, students here at GHS are part of that demographic. "They are both popular because of how much music they put out and how much time they put into it. Their fan bases are so huge because they put out quality music," senior Javon Murry said. 
But how willing are fans to compromise with the cost of hearing their "quality music" live? "I didn't buy Drake tickets because of how much money they were. It probably wasn't worth spending that much to see them. I'll probably regret it in the future," junior Alin Ademi said. 
On the other hand, some students value experience over cost. "Regardless of what section you chose, the tickets were super expensive. When the tickets first dropped, I was trying to get tickets while in my study hall, and my mom actually ended up buying them while I was texting her about it. I personally justify the purchase of these tickets because money will always come back, but experiences won't," junior Kiah Wilson said.
Although some will be lucky enough to finally hear Drake and 21 Savage in person, others will still continue to enjoy their music at home. "I think 'So Far Gone' and 'More Life' would be my favorite albums and my favorite songs right now would be 'Little Bit' and 'Spin Bout U,'" junior Lilly Pogorzelski said.