GHS Going Back to Original Exam Schedule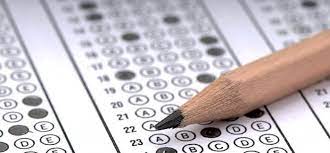 The second semester is coming to an end and students have begun preparing for final exams. This semester's exam schedule is returning to the original schedule with half days instead of the all-day exam week.
Exams will start on Tuesday June 6, and will continue until Thursday June 8. Students will take three exams on Tuesday (Hour 1, Hour 2, and Hour 7) and be released at 12:30. On Wednesday and Thursday two exams will be taken and students will be released at 10:45. Students are given an hour and a half to complete each exam.
"Both teachers and students, and some parents, expressed the difficulties of how summative assessments were given in January. When our teacher workgroup planned for a way we could meet our instructional minutes and bring back our final exam week, we took that opportunity," Principal Steve Lodes said. 
In their first year of high school, Freshmen have to adjust to a new exam schedule. "The new exam schedule is a bit weird but I'm glad we're getting out of school earlier," said freshman David Acamovic.
In the upcoming weeks before exams, teachers will begin preparing their students for the final exams. "I give a study guide in classes that have a traditional exam. This has lots of pointers for the test, including terms, characters, texts that need to be reviewed," English teacher Jennifer Hussa said. "I usually also have a study session during class before the exam day if it fits into the class schedule."
 For seniors this will be the last exams they will take, and many are very excited to finally be done. "Final exams are annoying as they already are and for it to be my last one, it's crazy… it doesn't seem like I went through four years of high school at all," senior Owen Kohnke said. 
Kohnke's senior advice for freshmen is to study as hard as you can, even if it's just a low percentage of your grade. "Freshmen should definitely take the material seriously and study because I forgot so much of what I learned throughout the years," he said.