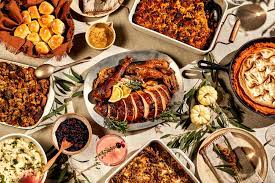 Thanksgiving is a time that brings families together to share a feast in honor of the Wampanoag people and the English colonists. 
For most families this means traveling or hosting. Some students travel to a relative's house for Thanksgiving dinner. Whether they travel two miles or 200 miles, they go to a relatives house for a special family dinner. "I usually spend it in Illinois because all of my family lives there except for us," senior Grace Uremovich said. 
Some students host Thanksgiving and have the pressure of the whole family coming over for the special occasion. This means lots of cleaning and cooking, however you are left with delicious leftovers and a turkey scented house. "My family usually hosts with my dad, grandpa, grandma, cousins, aunts and uncles. I like that she hosts it because she makes the best food and she lets me help cook," freshman Lorelei Wood said.   
Many students celebrate special traditions for Thanksgiving. Such as, having a special couple break the wishbone. Some families have cousins gather around for a special tradition. Some families get excited to decorate for Christmas the day after. Other families have other traditions. "My family does a turkey bowl, it's a touch football game between all my cousins, dad and uncles," senior Luke Pritzlaff said.
Some families don't celebrate Thanksgiving with family but have the tradition to host a "friendsgiving" before or after Thanksgiving day.  This is a meal or feast with only friends. "I do celebrate it with friends, or attend their thanksgiving dinner," senior Lana Stankovic said. Additionally, some families have a family meal around the time of Thanksgiving. "Around Thanksgiving I would have a family gathering. It is a bigger gathering, our family and family friends would all gather and spend time together," Stankovic said. 
Thanksgiving dinner looks different for everyone. Many families roast a delicious turkey with traditional sides such as mashed potatoes, gravy, stuffing, cranberry sauce, ect. "We have Mac and cheese, turkey, casserole, ham, and so much pie," Uremovich said.   
For many, Thanksgiving means gathering with extended family members and seeing people they don't see often. "I usually go to my extended family for my Thanksgiving," senior Paisley Clement said. 
Other students have a smaller family or enjoy the company of more connected family members, and have a small intimate gathering with a small group of family members. "My family usually has a very small gathering," senior Alex Pegelow said. 
No matter the size of the gathering, the food you eat, or the traditions you celebrate, Thanksgiving is a special time of year for many. It brings families together and dedicates a moment to appreciate what we are thankful for in our lives.