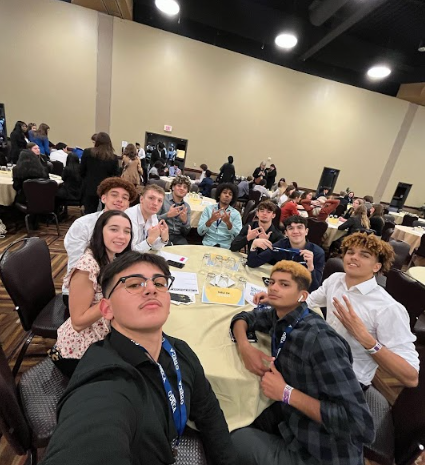 DECA, a national organization focused on developing business skills, is being celebrated this month. From a food drive being organized to help the community to a trip to the Dells, DECA members at GHS have found many ways to commemorate this month.
This organization prepares students for entrepreneurial opportunities, but for its members it holds much more than that. Annamarie Murphy, a senior and one of the presidents in DECA, shares her thoughts on this. "It's about building relationships, making unforgettable moments, creating innovative solutions, and having a great time. Every DECA meeting and event provides endless opportunities for growth and learning," she said.
Numerous members make a point to highlight the family-orientated aspect its chapter has. Senior Maya Hartman, commented on this. "It's almost like a family club instead," she said.
Continuing with this idea, Lucas Trentadue, a senior and another president in DECA, shares details on why DECA month is important. "I think DECA month is really good for demonstrating that more personal side of each of our members within this chapter," he said. "Getting breakfast together, then coming in and painting pieces of cardboard and blowing up balloons."
As much as DECA has a social aspect and strong community, its responsibilities are plenty. For its presidents, Murphy describes some tasks both she and Trentadue handle. "Some of our weekly tasks consist of overseeing what our other officers are working on and where we can lend a hand. We also make sure to set time aside to schedule meetings and events," she said.
These responsibilities are efforted into its day-to-day success but also specific events coordinated in celebration of DECA month. A competitive food drive hosted by them is one of these events. Held until Nov 10, donations were taken by the club's advisor, Andrew Muszytowski to help the community pantry. 
In addition to the drive, a trip to the Dells was planned for the chapter to have another opportunity to bond. Members visited the ELC Conference in Kalahari, growing closer than ever in preparation for competition season. The chapter members got the chance to attend general sessions, having opportunities to build their network of DECA members around the state. On top of this, they got all access passes to the water parks to enjoy and a wristband to take advantage of the indoor theme park.
The national organization that prepares leaders and entrepreneurs in marketing, finance, and much more is being celebrated at GHS this month in many ways. From a food drive to a trip, GHS members are excited to celebrate their month, and for what lies ahead for them this season.