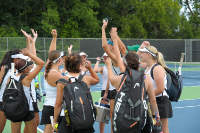 With most fall sports coming to an end at GHS, the girls tennis team ended their season with three players advancing to the Girls Tennis State Championship: seniors, Danijela Dragicevic, Suri Johnson, Katarina Zrnic. Katarina won one match, and Danijela and Suri got close to winning their doubles match.
"Our first and only match was against Elkhorn and we lost both sets we played. I served well in that game. My serves had some speed and I could place them where I wanted."  Senior Suri Johnson said, "I definitely could have done better at the net. I let my nerves get the best of me."
While competing at state is a great experience, the season leading up to the state competition is very important to be able to make it to state. Zrnic made it to state all four years she was on the team. 
"My favorite memory from this season was finding out I qualified for state for the fourth time in a row, and then winning my first round match at state against a main draw qualifier," Zrnic said. 
The practice schedule for the tennis season also helps them to prepare for all their matches including state.
"I will most definitely miss practice the most because it was a time to catch up with teammates as well as a specific time set aside to work on shots that I struggled with," Dragicevic said.
While the end of all sports is sad, it's especially sad for the seniors on the team. The girls tennis team had a great season which made it hard for the seniors to say goodbye.
"I will miss my teammates because we are close and we know how to have a good time whether that is at matches, practices, or rain delays. I am so glad that my partner and I made it to state our senior year. It was the perfect way to end the season because it's what we worked hard to achieve all season and may have been the last competitive tennis match I ever played in my life," Johnson said. 
"I will definitely miss the team environment of high school tennis. I loved cheering everyone on," Zrnic said. "I don't think I could've ended the season better. Honestly, I accomplished all that I wanted to do this year by qualifying again, and actually winning my first state singles match. It was a great way to end my high school tennis career."